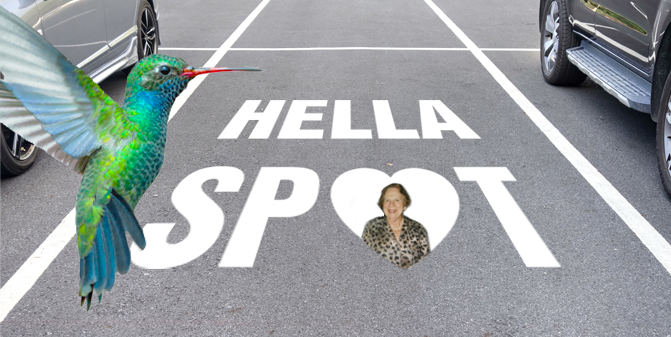 Every Sign Has a Feeling
When my mom, Hella Drizen, died 21 years ago this July, I started seeing things.
Empty parking spaces for one. And not just any space—the space. The one at the front right next to the place I was going. The lot could be packed without a space for miles; and there, as I drove to the front, would be the empty space—my space that somehow magically appeared. My sons and I became so used to automatically driving to the front of well, any place we went, we named this uncanny phenomenon after her. We call the coveted empty space a "Hella spot."
Then there's the hummingbirds. They were prominent on the teapot I bought her when I was a teenager. She loved that teapot; so much so that after she died I am convinced she brought it to life. I'd be sitting at my kitchen table and out the window a hummingbird would appear…much too often to consider it random. Then it would hover; like it was letting me know she was with me. On vacations, on walks, on my way into restaurants and sitting in my parked car—at the most unlikely times and in all seasons—these little hummingbirds come to visit. And every time, I smile and tell Hella hello.